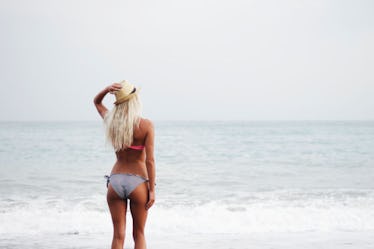 What My First Solo Beach Getaway Taught Me About Relaxing That Nothing Else Could
Sometimes, it's OK to take on life solo. Summer is meant to be a time for you to get recharged, and reconnect with yourself a bit. Let's be honest, during the day, when you're staring at your screen and updating your planner, you may not feel so centered. You're racing to make the next meeting, and putting your passions aside for a paycheck. It's not until you disconnect and have some "me" time that you truly feel relaxed and realize what matters most. Here's what my first solo beach getaway taught me about relaxing that no other experience ever could. So, you should book a trip to be chilling under the palms, too.
Traveling solo might sound overwhelming at first — but hear me out. Yes, you'll be having lunch by the shore by yourself, and probably need to branch out and make a few new friends. But, you'll find that having your schedule be solely on your terms is exactly what you needed the most. You won't have to force conversation, and life will instantly be put into perspective by the sea. Can you feel the bliss, yet?
There's so much to be said for getting some peace of mind, and sometimes you have to leave behind your worries and the beach barbecues with your besties to truly get in touch with yourself. Relaxing isn't all about bubble baths or days at the spa, and my first solo beach getaway taught me these seven important lessons.