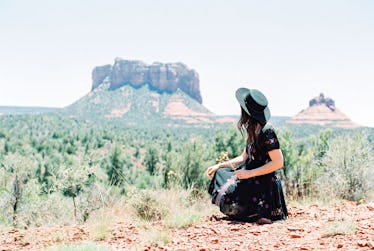 The Most Relaxing Places To Travel Solo This Summer That'll Recharge Your Soul
Plane ticket for one, please! This summer, you're looking to book a solo trip. You want to get away from the stress of everyday life, and leave your worries behind. Putting your planner away and packing a suitcase seems ideal, especially when you're off to somewhere that's so serene and a bit tropical. It's not that your friends and family wouldn't make for the best travel buddies; you'd just rather see the world solely through your own lens, ya know? These relaxing places to travel alone will let you wind down and chase your wanderlust, for a summer well-spent.
Traveling alone truly has its perks. You don't have to worry about anyone but yourself, and can explore on your own schedule. Yes, you'll have to get comfortable with eating meals without a crew, and take lots of selfies. But after a few days of following your own two feet, you'll have the routine down. You'll spend your afternoons getting some much-needed peace-of-mind by the beach, and maybe hit the spa in the morning if you're at an exotic resort.
You've been wondering exactly where to go, though. Checking out a city wouldn't quite be what you're looking for. The bustling streets and bright lights won't leave you feeling refreshed and ready to take on the real world again. Instead, consider one of these seven places for your relaxing solo trip this summer. Your wanderlust is too real, and so is your need for some winding down.