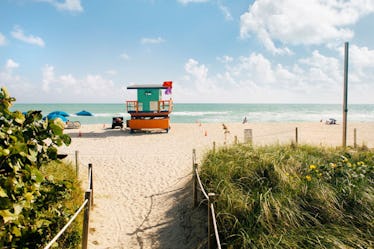 The Best Beach Towns On The East Coast Will Help You Get Your Fill Of Vitamin Sea
Life's a beach, and this summer you'll be taking trips to the sand and surf as often as possible. You might rent a cute cottage by the shore, or spend your Saturday afternoon swimming and playing beach volleyball. The only thing that could be sweeter than this, is sipping on lemonade and making s'mores with your girl crew right after. You likely have a few local spots along the coast that you travel to in the summer, but is that enough? The best beach towns on the East Coast should be on your bucket list, purely for a dose of vitamin sea.
If you grew up on this side of country, you've likely heard enough about the California coastline. You know that there are piers and boardwalks with Ferris wheels, and palm trees everywhere you look. Sure, the sand can be a bit rough, and the Atlantic Ocean is quite chilly until the weather gets warm, but that doesn't mean that there aren't some pretty awesome beach towns worth seeing this summer. Change up your location, and get refreshed and recharged. This coast has a whole lot to offer when it comes to dreamy and picturesque places, assuming you know where to look.