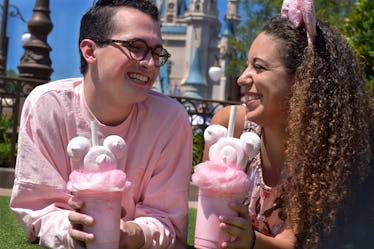 Every Millennial Pink Treat You Need To Try At Disney ASAP For The 'Gram
Disney has been crushing it with their treat game recently. I mean, have you seen the adorable Pixar Fest goodies at Disneyland right now? It makes sense that it has jumped on the millennial pink train, too. That's right — there are now millennial pink treats at Disney, and I want to try them all. Not only are these snacks the most beautiful hue of pink, but they're tasty AF, too. Needless to say, if you're heading to this magical destination, you need to make it your mission to get your hands on a few of these treats, if not for tasting, at least for the 'Gram.
Your foodie friends will be jealous AF when they see pics of your millennial pink milkshake topped with Mickey marshmallows. You know you can always count on Disney to turn something like a simple cream puff into a masterpiece that is almost too beautiful to eat.
I'm totally here for the millennial pink obsession that's going on. To be honest, I'm already planning my next trip to Disney with my sparkly millennial pink Minnie ears — because the 'Gram would be incomplete without them. (Duh.) Disney has us in that pink state of mind, and there's no going back.