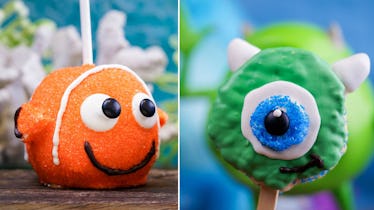 Pixar Fest Is A Thing & These Treats Will Give Your 'Gram All The Wanderlust
If you're anything like me, you're counting down the days until Pixar Pier makes its debut at Disney's California Adventure. In June, the old Paradise Pier will be no more, and in its place will be a cool Pixar-themed boardwalk of rides, shops, and food. In anticipation of the big change — and in celebration of the new Incredibles 2 movie coming out this summer — Disneyland is celebrating with a Pixar Fest all summer long at both Disneyland and California Adventure. Yes, that's right — Pixar Fest Disneyland is a thing and you know there are a ton of treats you need to snag from the festivities.
It just wouldn't be Disney without food, and food that is not only delicious, but adorable AF. All of your favorite Pixar characters are making an appearance, from Finding Nemo's Dory to the adventure-seeking Russell from Up. You'll surely find something from your favorite movie, and honestly, these new Pixar-themed treats are almost too cute to eat. Just looking at these pictures of the various snacks will have you saying, "Awe." So, remember to snap a pic of your treat for the 'Gram before munching away, and then "just keep swimming" your way through the epic Pixar Fest now through Sept. 3.