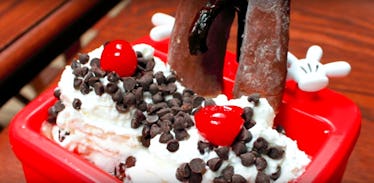 These Disneyland Sundaes Are Magical & You Haven't Lived Until You've Tried One
"I scream, you scream, we all scream for ice cream." A sundae is the one treat that makes the sweetest kind of touchdown in many of our hearts after a big win, or on a hot summer afternoon. Whenever the ice cream truck cruises down the street, it's still pretty exciting — no matter what age you are. The joy of a simple ice cream cone is endless, and you get the same kind of feels when you're at The Happiest Place On Earth — Disneyland. When you combine the two, you are truly in a magical place. That's why ice cream sundaes at Disneyland are a must for anyone who's looking to take a trip there.
A traditional Mickey ice cream bar is essential for snack, but these ice cream sundaes take the cake for dessert. It's Cinderella who said, "A dream is a wish your heart makes," and I am dreaming of ice cream, whipped cream, rainbow sprinkles, and cherries on top. If you've never been to Disneyland before, these seven ice cream sundaes will surely persuade you to check it out. If you've been to Disneyland a million times, but haven't tried all of these sundaes, here is your new bucket list. So, ask for an extra spoon, because I'm about to dive into some very delicious treats that you'll want to scoop up, ASAP.