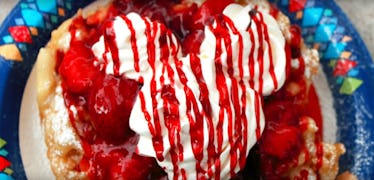 7 Valentine's Day Treats At Disneyland That Are Truly Love At First Bite
Churros, candy apples, pretzels, and popcorn. Now that I have your undivided attention and stomach growling, let me just remind you that the food at any Disney park is pretty much the number one reason you should be venturing to the "Happiest Place On Earth." The treats at Disneyland are so delicious that we keep coming back for more. It's no surprise that the Valentine's Day foods at Disneyland are so enticing, and we're seriously here for them.
Just in time for February, Disneyland has some of your favorite treats all decked out for the holiday. There are even a few new treats you need to try just for the occasion. Forget the princesses and princes, we get heart eyes every time we see chocolate, so these seven Disneyland treats will have your heart skipping a beat.
You'll be feeling the love when you get your hands on these delicious desserts. Cinderella was wrong when she sang "So This Is Love," unless she was referring to biting into a chocolate-covered strawberry, because that's the truest love we all strive for on Valentine's Day. So, whether you have a bae or not, you should take a trip to Disneyland for some tasty goodies that will have you believing in love at first bite.