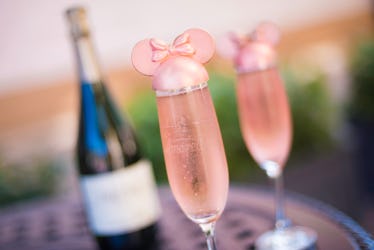 Disney World's Newest Millennial Pink Drink Will Make You Want To Plan A Trip ASAP
Even though my last trip to Disney World is way in the rearview mirror, I can't help but get excited when I hear about new food and drink offerings at the amusement park. One of the latest sips is perfect for the 21 and over crowd, and it will surely rack up all the likes when you post it on your Instagram account. Here's where to get millennial pink champagne at Disney World to turn your next happy hour into a fairy tale.
The next time you find yourself at Disney World in need of a break from the sun and the rides, you can pull up a seat at Amorette's Patisserie located in Disney Springs in Orlando, Florida. The bakery is serving pink-hued Fairy Tale Celebration Cuvee topped with millennial pink chocolate Mickey Mouse ears. This sparkling pink champagne is worthy enough of a celebration on its own effervescent merit, but the addition of the pink chocolate ears definitely makes this sip a must-have on the Amorette's menu.
The Disney Springs Twitter post showing off the drink in all its pink glory and calls it the Millennial Pink Celebration Toast, and I think it's reason enough to start planning a Disney World vacation ASAP.
If enjoying a glass of Iron Horse Fairy Tale Celebration Cuvee gives you a taste for all things millennial pink, then Disney World is definitely where you want to be. Disney's BoardWalk Bakery on Disney's BoardWalk has an Instagram-worthy treat that will also satisfy your sweet tooth. The Millennial Pink Pop is a rice crispy treat covered in white chocolate and topped with "pink crispy pearls and millennial Minnie ears," per the Disney Parks blog.
While Disney undoubtedly has its delicious food and drink offerings locked down, you can also check out the new attractions coming soon to Walt Disney World in Orlando. One of the brand's most popular Pixar movies is finally getting its own section in the park, and you can join your pals Woody and Buzz Lightyear when Toy Story Land opens at Disney's Hollywood Studios on June 30.
The food options in Toy Story Land might not be as pink and bubbly as the Fairy Tale Celebration Cuvee, but Woody's Lunchbox will offer filling diner-food fare like burgers and soda floats, so you won't have to worry about going hungry.
Disney World's West Coast counterpart, Disneyland in Anaheim, California, is also undergoing a Pixar transformation. Disneyland Resort's Disney California Adventure park will open Pixar Pier on June 23, and you can snag the new Lemon Dole Whip from the Monsters, Inc. themed ice cream shop, The Adorable Snowman Frosted Treats.
Of course, going to Disney World to enjoy millennial pink champagne or to get a Toy Story-worthy thrill when you ride the Slinky Dog Dash is what you'd like to do this summer, but sometimes vacation days don't pan out the way you'd like. Don't worry, you can totally partake in some Disney fun even if you can't schedule a trip to Disney World.
All you need to do is plan a pool day and buy whatever your Disney-loving heart desires from the Little Mermaid pool party collection available at ShopDisney. The options are aplenty, too. You can relax in the pool on a Flounder Pool Float, dry off with an Ariel Fin Towel, and stay hydrated with the Flounder Novelty Cup that comes complete with a plastic crazy straw. Seriously, there are so many fun Little Mermaid-themed pool accessories in the collection that your wish list will probably include them all.
It looks like Disney has plenty of ways to celebrate, and cheers to you if you can get to Disney World to raise a glass of Fairy Tale Celebration Cuvee!