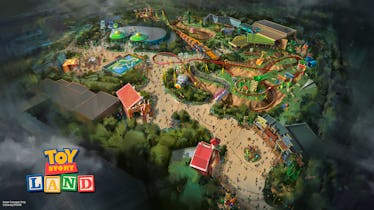 The Opening Date For Disney's 'Toy Story' Land Has Been Announced & I'm So Excited
Handout/Getty Images Entertainment/Getty Images
Having to participate in ice breakers at camp or in school was always kind of a drag, but being asked about my favorite Disney movie was literally the most dreaded question. Between hits like Aladdin, The Lion King, and The Little Mermaid, choosing only one was kind of impossible... and it felt a little bit wrong. But out of all the Disney flicks, Toy Story definitely resonates with me to this day, and it forever made me want to be a toy... which is why Disney's announcement to open a Toy Story Land was by far the best news I've heard all year. And after weeks of waiting to hear when Disney's Toy Story Land is opening, they've finally announced a date — and I'm already booking my flight to Orlando.
Even though summer might seem a little far away right now, it's never too early to book travel plans. And if you're planning on going somewhere warm anytime soon, "reach for the sky," because it looks like this might be the summer to drop everything, and go to Florida. Per the Disney Parks website, Toy Story Land's size actually evokes the feeling of being toy-sized, allowing guests to feel like they're actually adventuring alongside Woody, Buzz, and the rest of the toy gang. If that sounds ideal, Disney Parks says that Toy Story Land will open at Disney's Hollywood Studios in Walt Disney World in Orlando, Florida on June 30, 2018. As Buzz Lightyear would say... to (Orlando) and beyond!
Each of the park's rides sound super cute and completely on-point. The Slinky Dog Dash is going to be one of the main roller coasters, with each car modeled after Slink. Although I've never ridden an actual dog-themed roller coaster, it kind of sounds like a dream come true. The Alien Swirling Saucers also sound like quite a time, as its description is kind of reminiscent of a spinning teacup ride. If motion sickness is your weakness, I'd probably pass — but either way, you won't 100 percent miss out; "you'll be fine, partner."
The park's carnival game box will contain Toy Story Mania!, which was added to Walt Disney World Resort in 2008, according to their website. Toy Story Mania! is essentially a 3-D ride, which allows riders to shoot 3-D objects at their favorite characters. If you've ever ridden Buzz Lightyear's Space Ranger Spin at Disney, it sounds very similar.
Hungry guests can hit up the park's quick service joint, Disney Parks advises, which is called Woody's Lunch Box. It's going to serve fun old-fashioned diner food, such as soda floats and burgers. And there's really no going wrong with any of that.
Bob Chapek, Walt Disney Parks and Resorts' chairman, told Good Morning America that Toy Story Land is going to be a really fun family experience, and that Disney Imagineering and Pixar Animation have worked super hard together to actually make this park become a groundbreaking reality. He said,
With set pieces, staging, attractions and experiences Toy Story Land represents the best of Walt Disney Imagineering's collaboration with our storytelling partners at Pixar Animation Studios. This new land will place guests inside the wondrous world of Woody, Buzz and their pals – and invite everyone to experience the joy of being a toy.
So if you've ever wanted to live inside of your toy box, or if Buzz Lightyear was totally your #MCM, Disney's Toy Story Land might be your next perfect vacation. So get ready to hit up Orlando, and get that snake out of your boot — because you're about to finally reunite with Andy, Woody, and the whole gang.
Check out the entire Gen Why series and other videos on Facebook and the Bustle app across Apple TV, Roku, and Amazon Fire TV.