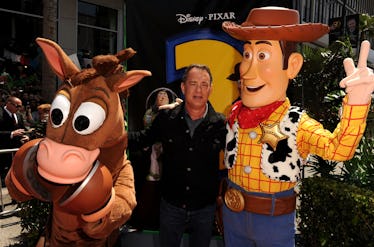 A 'Toy Story' Land Is Coming To Disney For All You Andys Out There
Kevin Winter/Getty Images Entertainment/Getty Images
I don't know about you all, but watching the Toy Story movies made me want to be a toy. Or actually, maybe it just made me wish that my toys could come to life, and I could hang out with them. Either way, it's been a bummer this whole time to grow up and realize that neither of those options are possible. That is, until now. Disney World's Toy Story Land is coming, and it'll help you live out all of your childhood fantasies.
According to Thrillist, Walt Disney World in Orlando, Florida, will welcome Toy Story Land to Disney's Hollywood Studios this summer. The park is 11 acres in total and is set up to look like an oversized version of our good friend Andy's backyard, complete with gigantic plants, Tinkertoy towers, and hulking statues of your favorite Toy Story toys. So if you want to feel like one of Andy's toys come to life, now is your chance.
Disney has stated that the park will open in summer 2018, however a specific date has not been revealed. But what better time of year to kick back and pretend to be Buzz Lightyear or Mr. Potato Head than summer?
So what exactly will Toy Story Land entail? It's going to encompass everything from the classic movie trilogy. I'm not going to lie, I have forgotten some of the details from the movies, but based on these attractions, it sounds like the park will provide a great refresher.
Slinky Dog Rollercoaster
One of the main rides in the park will be the Slinky Dog Dash, based, of course, on Andy's beloved Slinky Dog. According to Disney, the big, red coaster will "send riders dipping, dodging and dashing around turns and drops that Andy has created to stretch Slinky and his coils to the max." It'll be reminiscent of all the times you were fascinated by your Slinky's flexibility, and tried to stretch it to its limits (RIP to all of our hyperextended Slinkies).
The ride has been described as "family-friendly," so it won't exactly be a thrilling track full of dips and flips. But if you're someone who doesn't normally enjoy roller coasters, you should definitely be able to handle this one, and take a fun ride down memory lane.
Alien Swirling Saucers
The second main attraction in the park will be the Alien Swirling Saucers ride. You'll continue to feel like a toy as aliens swirl above you in UFOs and try to capture riders with the revered vending machine claw. Bright lights, special effects, and music will add to the overall arcade feel, and a huge Buzz Lightyear statue will guard the entrance.
Disney World will also be adding a third track to the Toy Story Mania! ride, so hopefully everyone who comes to check out Toy Story Land will be able to experience all of the fun.
Woody's Lunch Box
If you've been to Disney World, then you know that there are about a million options when it comes to eating. Last time I was there, I had a giant turkey leg, an awesome chicken sandwich, delicious french fries, a warm churro, and some Mickey-shaped ice cream. Toy Story Land will bring even more options with Woody's Lunch Box. It's no Pizza Planet, but it will include awesome treats like root beer and ice cream floats. There are no photos of the restaurant yet, but one can assume that it'll look like a lunch box from the outside. I have a feeling it's going to be super cute and nostalgic, and I can't wait to see it.
Heading to Disney World this summer? Definitely consider swinging by the new park. It's safe to say it'll make you feel like a kid again.
Check out the entire Gen Why series and other videos on Facebook and the Bustle app across Apple TV, Roku, and Amazon Fire TV.