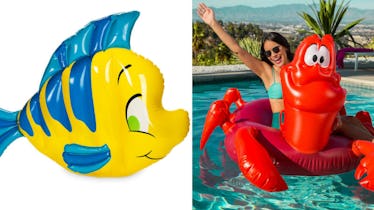 Disney Just Dropped A 'Little Mermaid' Pool Party Set & I Need Everything
With summer on the horizon, I'm dreaming of pools, parties, and being a part of the fun. Just like Ariel was wishing to be a part of our world, I'm forever dreaming I could be where the mermaids are. Lucky for us, according to Oh My Disney!, Disney's Little Mermaid pool party collection for ShopDisney just launched, and I don't know about you, but I want every single item on the list.
Just imagine adding these pool floats and towels to your summertime staples. Also, who's got time for dinglehoppers and snarfblats when you could be sipping out of a Flounder novelty cup while wearing a cute AF Flotsam and Jetsam hat? With any of these Little Mermaid items, you will always be mer-made for Instagram pics while you're relaxing by the pool with your besties.
Seriously, I want it all, so I better start saving up now. Summer is right around the corner, and I'm making plans to have some seriously epic pool parties that even Ursula is invited to. Only a "poor unfortunate soul" wouldn't want to get in on the fun, so take a look at these nine pool items you need for a party that is worthy of being under the sea.