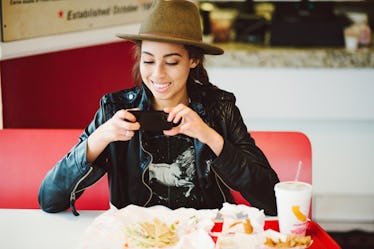 10 Genius Picture Ideas For Instagram, If You're In A Rut & Need Some New Inspo
Kate Daigneault/Stocksy
It's all about that #content. If your social media game is struggling, and you've found yourself in quite the rut, you're not alone. Maybe it's the winter weather or just boredom taking over a bit, but you just don't have any creative or cute inspo right now. Usually, you'd be posting pictures every weekend, but lately, you've just stuck to scrolling through your feed. Your followers don't seem to be quite as stuck, and you're living vicariously through their wanderlust. Truth is, you're in serious need of something new, and these picture ideas for Instagram will have your feed looking as artsy and inspired as ever. Just call us gurus to the 'Gram.
Tired of selfies? The same old shots do get boring and repetitive after awhile, and if you want your feed to look fire you absolutely have to change it up. By now, you've probably perfected your posting skills and have downloaded all the best apps for editing. There are the ones where you can create a collage, or spend too much time messing with filters. (The inner art student in you really comes out when you're adjusting contrast and color tones.) And you can't forget the ones that help you plan your feed before you post, and get your 'Gram in a good groove.
You follow so many bloggers, photographers, and filmmakers who always post the most adventurous and aesthetically-pleasing pics. Sometimes, you wonder if you'll ever get to that level on social media — and you so can with some Instagram inspo.