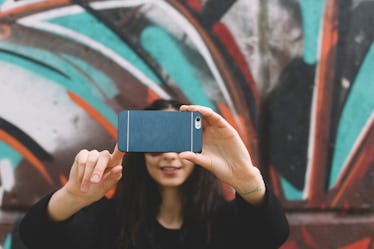 The Best Photo Apps To Download If Your 'Gram Is In Need Of A Serious Upgrade
Alexey Kuzma/Stocksy
You're a social media butterfly, with a serious need of an upgrade. Our modern world calls for cute pictures and even better captions. At this point, you might have mastered how to properly edit a photo, find the right filter, or locate a pun. Those skills are all essential to your social media game, and are sure to snag you some followers along the way. Don't stop there, and challenge yourself to get even better on the 'Gram. Downloading the best apps for pictures might seem like a move just for the photographers and creatives of the world, but we can all strive to be a little more #artsy.
Full disclosure — I love Instagram. I'm a loyal liker and could honestly spend hours messing around with different captures until I'm content with a post. Sure, we all must be aware that social media is like a car mirror. What you see isn't always what you get, and you must learn to find beauty in your life with or without the filter.
But, this doesn't mean you can't focus a bit on your feed and perfect your profile. These apps are tried, true, and totally easy to understand for even the most unexperienced editors. Give them a go and watch your 'Gram get so much better.