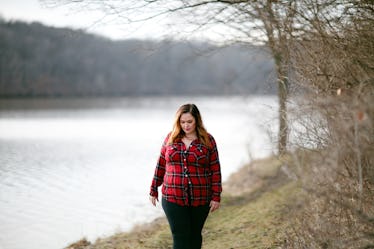 7 Expert Tips For Feeling Happy In The Winter, Even As The Days Get Shorter & Shorter
As someone who grew up at least partially in Vermont, I should be used to dealing with severe winters, but the truth is, they've always been a struggle for me. When the temperature drops below an autumn chill and it starts getting dark, so goes my mood and motivation down with it. So while learning how to be happy in the winter continues to be a challenge for me, it's one I try to tackle gently by implementing self-care routines and asking for help when I need it.
And yes, many people tend toward depression and isolation in the winter months, which is believed in part to be a result of body rhythms getting out of whack due to changes in sunlight.
So if you're feeling low and slow as the months start to creep toward the depths of winter, and your motivation is dwindling with each passing day, remember there are always bright spots to be found among the darkness. That, and it's always a good idea to allot yourself some well-deserved "me time" when you're not feeling your best.
Elite Daily had the opportunity to speak with a few mental health and wellness pros, who have offered some great tips and suggestions for letting a little light into your life when the days start getting darker.