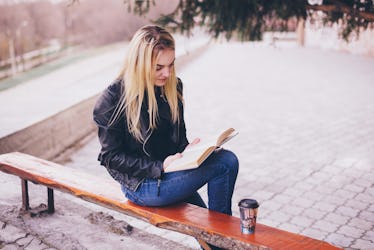 7 Little Changes You Can Make In Your Life To Help You Feel Happier Every Day
It's been said time and time again that happiness is a journey, not a destination. While I wholeheartedly believe happiness is an emotion, I've also concluded that it's something we as humans need to consciously choose for ourselves. This mantra can be applied to everyone, because whether you are struggling with a mental illness, going through a rough time, or even just kind of content with where you're at, we could all use a little more positivity in our lives. If you're skeptical on how to be happy every day, I know it may sound almost impossible to achieve. But there are countless little changes that can be made, from the time you wake up in the morning until it's time to lay your head down and go to bed, that can all make a real difference in your everyday mood.
Here's how I see it: Happiness can't be a destination, because every one of us defines happiness differently. When I'm feeling particularly down, my go-to method to feeling better is to either write in a journal or lose myself in an intense workout. But your happy place might be through a computer screen or cooking in the kitchen. The trick to being happy every single day is to figure out what sort of activities, music, and the like bring you the most joy in life.
Thankfully, there are a number of little details you can easily alter in your daily life that can have a significant effect on your overall mood. Here are a few tips and tricks from experts on how you can be a happier person every day, starting right this second.