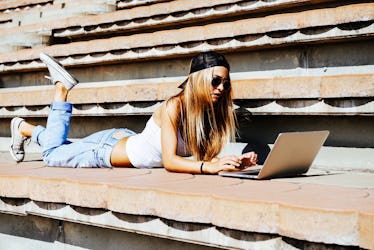 7 Of The Best Decisions I Made In College That Changed My Whole Life, TBH
College is a dream come true for so many of us. It's a fresh start, and gives you the chance to create your life from the second you step foot on campus. You'll get involved in all sorts of activities and clubs, and meet a bunch of new people. Once graduation rolls around, you'll miss college life more than ever, but realize that it's still a crucial part of your story. To be honest, some of the best decisions I ever made in college changed my whole life. Four years truly turned into forever.
I remember my first day of freshman year like it was yesterday. I packed up my backpack and said, "See you later," to my roommates. Grabbing coffee on the way to class was necessary, even though the lines in the cafeteria were through the doors. The professor introduced herself and told us her extensive background in art history. I daydreamed from my seat about studying abroad in a beautiful place like Florence, Italy, where textbooks truly came to life.
Little did I know that those four years would be filled with lots of memories and episodes of Chopped on Food Network. Every Saturday morning, my friends and I ate breakfast sandwiches on the couch and talked about our weekend plans. Those girls remained in my life years after graduation. (Seriously, the group chats are still going strong.) Sure, we all made some mistakes, but also some of the best decisions ever in college. These seven choices changed my life, as dramatic as it may sound.