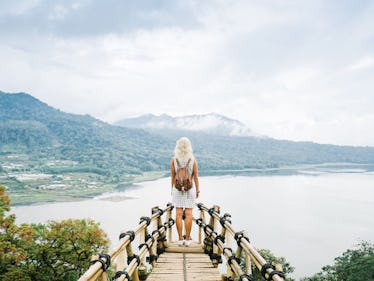 8 Women Reveal The First Risk They Took That Changed The Course Of Their Lives
When was the last time you took a chance in life? I'm not talking about drinking your coffee black and skipping out on sugar. (Although, that is a bold move.) I'm talking about taking a chance on yourself, and following your wildest dreams. Right now, you have a lot of passion and ambition, but you might be letting fear get in the way of some things. You're creating obstacles instead of diving into the unknown, which could be really good. These real women reveal the first risk they took that truly changed the course of their lives, for the better. What are you waiting for?
So often you say, "One day," and assume that the universe will align the stars, and give you a sign when the time is right. In that moment, you picture yourself packing up your car and heading off into the world to live the life you're meant to, in a very Mamma Mia-esque montage. Well, unfortunately, that's not quite how it goes.
It takes facing your fears and what everybody else is saying you're supposed to do, and challenging yourself to reach outside your comfort zone (if that's where you want to be). This life is yours to live — I can't stress that enough. Don't spend your days dreading the work you're doing because it's not what you love, or hanging in a place that doesn't truly feel like "home." Adventure is out there; your life is out there. Take the leap of faith, like these eight real women did, to change your course for the better.