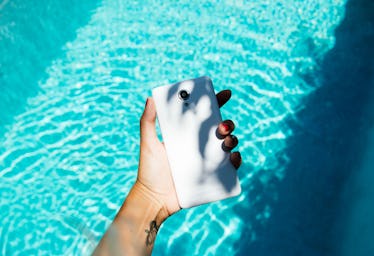 7 Apps To Download If You Want To Be A Travel Blogger & Influencer
So, you want to be a travel blogger, huh? Well, let me tell you: It's not all about dreamy trips to Europe and carrying around a film camera. That's part of it, but there are also a lot of late nights, cups of coffee, and creativity that goes into constantly producing solid #content. I have no doubt that you're artsy, smart, and ambitious enough to do it. But, the best travel blogger apps to download will totally step up your game, and help you get going.
By now, you likely have your favorite influencers you follow on YouTube and Instagram. They've been your biggest sources of inspiration, but navigating the industry by yourself is not so easy and clear. You may have downloaded some social media guides, or done some research on how to collaborate with brands. It's a lot more complex than you originally thought, but you're passionate about what you're creating and ready to take on any challenge.
You started with creating your own YouTube channel, and filming some vlogs. There were the tech problems, editing tricks, and that time your audio decided to disappear. (Perfect, that's what I was hoping for!) It's been quite the wild ride already, and you're just looking for some apps that'll help you get the best job done. Lucky for you, I've gathered up exactly what you should download, to kickstart your career as a travel blogger and influencer.