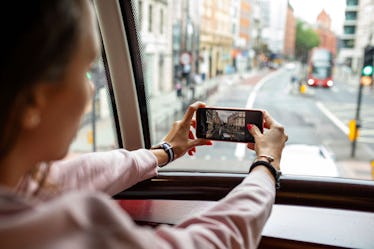 These Presets For Instagram Will Help Your Feed Look Like An Influencer's
Full disclosure: I'm obsessed with editing photos for Instagram. I love pulling out warm greens in my adventurous shots, and making blues a bit soft and faded. To some, it probably looks like I'm aimlessly scrolling on my phone for hours. But, I'm actually working with different filters and features. Amongst all of the apps you can use, the Adobe programs are my favorite. The best presets for Lightroom 2018, in particular, will give every one of your pictures an influencer's touch.
Even thinking about the 'Gram gets me so excited. *Dances a bit from the other side of the screen.* Over the years, I've found my own style and niche in social media, and discovered a whole world of modern-day artists. These are everyday people who picked up a camera or uploaded a video to YouTube, and are now creating content on the reg. You may not notice all the work that goes into each post at first glance, but there's so much going on behind-the-scenes.
It's understandable, though, that you don't want to dedicate that much time and effort to Instagram — that's totally OK. You want your feed to look like an influencer's, just without all of the work. Lucky for you, a lot of travel and lifestyle bloggers have created their own preset packs that you can purchase and use within Lightroom (on your laptop or the mobile version.) I rounded up some of my favs for this year.