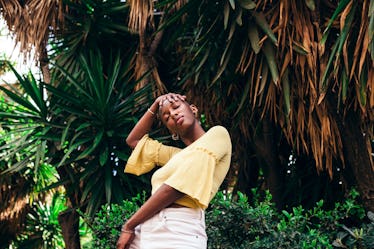 The Top Photo Editing Trends This Summer Will Give Your Instas A Sun-Kissed Glow
The warm weather brings a ton of new inspiration for social media that you'll want to get on board with ASAP. If you're anything like me, you're obsessed with Instagram, and follow all of those travel and lifestyle bloggers who always create such amazing #content. The summer 2018 photo editing trends on Instagram will have your feed looking just as lovely.
This summer, you're showing off your adventures. You're documenting every beach day and s'more with a sweet snap, and making sure your followers know you're living your best life. All of the best editing apps for Instagram have been downloaded to your phone, and you're figuring out just how to enhance those blues and pinks to create your own cohesive social media style. Yes, some may say you're extremely dedicated to perfecting your Instagram, but bloggers are basically doing the same. So, it's OK, right?
Personally, I don't see one problem with it, and can always be caught reworking a picture in Lightroom for hours on end. Sometimes, it's necessary to put down the screen. But when it comes to the photo editing trends on Instagram this season, you'll want to pull out your phone and get with the 'Gram.