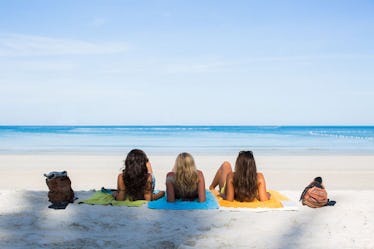 28 Punny Captions For Beach Days With Your Besties, Because You Love Them Long Tide
Beach, please. The sunniest season of the year calls for hanging out by the coast with your crew. So, picture this: You're driving down to the nearest spot on the shore, listening to "Here Comes The Sun" by The Beatles. You have a bag full of snacks and a jar of iced tea. Your besties are by your side, hanging in the backseat, and naturally you're smiling until your cheeks hurt. Once you get there, you'll roll out your towels, and run into the ocean at full-speed. Can life get much better than this? The only thing you need are some beach puns for best friends, so that you can capture every moment with a sweet snap.
You've likely already broken out your bathing suits at least once for a pool party, or used your break at work to catch some rays. Especially if you just landed your first job, you want to make the most of summer. Spending even a second outside and away from your desk is key. You're even waking up early so that you can go into the office early and then catch a sunset by the beach. Gathering up your girl crew and bringing a pizza is so much better than happy hour, am I right?
On the weekends, though, you have so much more time for fun in the sun. You can wade endlessly in the ocean, and wash all of your worries from the week away. Let's be honest: That stress can get to us, but it's nothing a little bit of summer can't solve. Amongst all of your relaxing, the last thing you want to focus on is a caption for social media. Since I'm obsessed with the 'Gram, I came up with a bunch of beach puns just for you. Thank me later with a s'more, OK?
1. "Sea you real soon."
2. "You can't surf with us."
3. "Summer would be a bummer without you."
4. "S'more sweet days like this one, please!"
5. "Going coconuts for my girls."
6. "Face palm-ing whenever I'm with you."
7. "Aloe you because you're my very best friend."
8. "Find your tribe, find your tide."
9. "Beach hair, don't care."
10. "My best beaches."
11. "When it comes to my bestie, I like to be a little shell-fish."
12. "Keep palm and carry on."
13. "Water we doing, if we're not doing it with our best friends?"
14. "This just about summers it up."
15. "On a scale of one to tan, you're sun-kissed."
16. "You had me from the very first wave."
17. "Love you long tide."
18. "I shell for you."
19. "Our friendship truly set sail this summer."
20. "This girl is the flip to my flop."
21. "Let's make s'more memories as soon as possible."
22. "Not just a pier, but a soul sister."
23. "When life gives you lemons, have a beach day with your main squeeze."
24. "Thanks to her, my social media looks bonfire."
25. "Water you mean that winter is coming?"
26. "Cooler than ice cream."
27. "Normally we go shopping, but today we settled for a different kind of sail."
28. "Just beachy with my besties."
Truth be told, I'm always daydreaming about the beach, so these puns came pretty naturally. When I'm not wishing I was amongst the waves, I'm figuring out my next Instagram post, or planning a solo beach trip so that I can actually be with the palms. (Plane ticket to Bali, please!)
Hopefully you and your besties found at least one caption that fits for your feeds, and spent a little time considering those summer photo editing trends, too. Everybody always comes up with cute posts, and you just want to join the party! Let me tell you: All it takes is the right filters and a pun that's as sweet as summer.