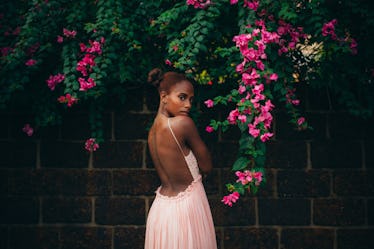 26 Tropical Puns For Instagram Captions That Are Both Salty & Sweet
Marija Savic/Stocksy
Bon voyage! If you're oh-so-over the cold weather, or just in desperate need of some vitamin sea, you've probably already escaped into island life or at least have a beach trip in the books. Truth is, as soon as the holidays are over, we're basically over the snow. Shoveling is a workout we never asked for, and hot cocoa gets old after a couple of cups. On snow days we watch Moana and Forgetting Sarah Marshall, and think about how nice Hawaii would be this time of year. The plane tickets are booked by the time the credits roll. But, when you're on vacation, you really want to seas the day and your surroundings. So, we've come up with some tropical puns for Instagram captions so that you can just sit back and relax.
When you study abroad, you instantly become a master at finding puns for your favorite pictures. In Italy, there's an endless amount of word-play options with "wine" and "pizza." Grape times. You stole a pizza my heart. See? Endless. Truth be told, your post is instantly upgraded any time you include the perfect pun. All you need is a little imagination.
Coming up with captions isn't always so easy, though. When you're really desperate, you start sourcing your friends and pulling up your favorite song lyrics, hoping that there will be a dose of inspiration. Sometimes they come off incredibly cliché, and other times you'll get the comments that say, "OMG that caption" (That's when you know you did well.)
Going into your tropical vacation, you probably had a vision or two of pictures or videos you wanted to score by the shore. That thirst trap post when you're feeling yourself in a swimsuit on the beach, or the adventurous shot from the top of a mountain or swimming in the sea — pictures like that are bound to get a ton of likes. The social media star in you knows exactly how to attract your followers and capture the lovely lifestyle you'll be living for the next 10 days or so.
But escaping the cold weather also means you should be taking a break from the stress of everyday life. When you travel, your priority should be disconnecting and absolutely falling in love with a new space that you get to call home for a little while. Yes, it is still absolutely necessary to post a picture or two, but don't spend hours sulking over your phone when the caption ideas just aren't flowing.
Instead, leave it to me (the pun expert, if you will) to lend a helping hand. Your pics by the pool and wading in the waves will be complete with a tropical Instagram caption like one of these.
1. "Tropic like it's hot." — Unknown
2. "If you were a fruit, you'd be a fine-apple." — Unknown
3. "Sea you real soon." — Unknown
4. "Keep palm and carry on." — Unknown
5. "Seas the day." — Unknown
6. "Adios, beaches." — Unknown
7. "You had me at Aloha." — Unknown
8. "No one likes a shady beach." — Unknown
9. "Girls just want to have sun." — Unknown
10. "For shore." — Unknown
11. "'Tis the sea-sun." — Unknown
12. "Bad and boozy." — Unknown
13. "In need of a little vitamin sea." — Unknown
14. "Life's a beach. Enjoy the waves." — Unknown
15. "Good times and tan lines." — Unknown
16. "Don't worry, beach happy." — Unknown
17. "Seek to sea more." — Unknown
18. "If there's a will, there's a wave." — Unknown
19. "Basic beach." — Unknown
20. "Shell we dance?" — Unknown
21. "Feeling nauti." — Unknown
22. "Whale hello there!" — Unknown
23. "Beach please." — Unknown
24. "You are the pineapple of my eye." — Unknown
25. "Beach you to it." — Unknown
26. "You're just jelly." — Unknown
You might have been balling on a budget for this trip, but you don't have to spare your social media in the pursuit of some much-needed summer. Caption your cute pics with a perfect pun, courtesy of me.
This article was originally published on