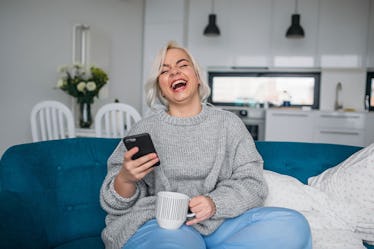 Millennials Who Still Live At Home Deal With These 5 Hilarious Struggles On The Reg
From my personal experience as a millennial, I've concluded one thing: Most of us are bonded by the word, "same." Just scroll through your social media apps for five minutes, and you'll realize that most memes and videos you enjoy have someone in the comments laughing and using this singular word to describe how they feel. It one of the things that has truly brought our entire generation closer together, and reminded you that you're not alone in your struggles — that there are a bunch of millennials who are dealing with the exact same things. For instance, there are some struggles you understand if and when you still live with your parents. Can you relate? I know that I sure can.
I'm moved out and on my own, now, but there were a lot of months after graduating college when I still lived with my parents. It just made sense, because I was still looking for a full-time job and exploring my options. I was traveling as much as I could, and spending time with my friends who also still lived in my hometown. Sure, I wanted to have my own place that I could decorate with cute stuff from Target and call my own. But, this living situation allowed me to save money and embrace being a 20-something.
It also taught me a lot about what it means to be a millennial, and what hilarious struggles we go through. You can relate to these five things, right? Thank goodness.