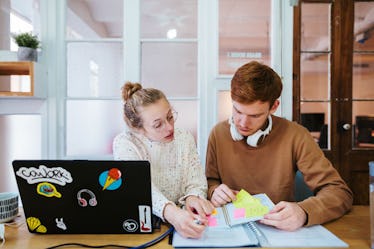 Millennials In The Workplace Can Relate To These 6 Hilarious Struggles
Being part of the "real world" means that, just like everybody else, you're doing two things: First, you're answering some of life's biggest questions like, "What do you want to do for the rest of your life?" Second, you're learning what it means to be a professional, and possibly work in an office space. You're settling into your own routines in the morning, and may complain about meetings scheduled on a Friday afternoon. There are some things that only millennials in the workplace can relate to, though — those hilarious struggles that have bonded this generation for life.
Let me make something clear. Our lives at work aren't the only thing that have brought us closer together. Social media, memes, and our love for avocado toast have really sealed the deal, too. I know that I could walk up to most millennials and have a full-blown conversation about the beautiful places they've seen around the world.
We've just created a culture that's our very own, and left a unique mark on the world. Cold brew, influencers, and the Internet truly wouldn't be the same without us. Not to mention, everybody would solely be drinking the items off of the normal Starbucks menu, and not worrying about the secret menu drinks that are so Instagram-worthy. But, these six hilarious struggles we go through at work have really bonded us. Am I right?