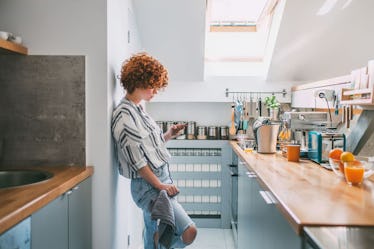 10 Apps Every 20-Something Needs, Because Living Your Best Adult Life Is A Quick Download
Girl, let me be the first to welcome you to the real world. You may settle into a new apartment in the middle of Manhattan, and put the iconic picture frame from Friends around the peephole on your door. You'll load up your fridge with the best snacks, and write a message on your bathroom mirror like, "Living the dream!" You'll order a celebratory pizza while you're unpacking your things and organizing your colorful plates and mugs on the shelves, too. Most importantly, you'll pull out your phone and download some apps that make adulting easier.
Truth is, whether you would like to admit it or not, you're considered an adult now. You've reached the age where you are capable of paying rent bills and are answering some of life's toughest questions. (It's OK if you don't totally have everything figured out, though.) You've also reached the decade of your life where you'll rely on your resources a little more.
The real world can and will be tough at times. Right now, you may be feeling a total mix of emotions and thinking, "Is there any way to make it easier?" Yes. And that's exactly where these 10 apps come in.