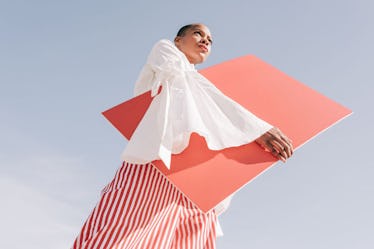 5 Hidden Secrets Of Life You Only Learn Once You Let Go Of The Past
When you think of the future, what do you imagine? For me, I think about the Jonas Brothers' song, "Year 3000." I picture the entire human race living underwater, and my kids going to school on submarines or silver hover-boards. The skyscrapers in New York City look a little taller, and there are reports of new galaxies and planets on the news. But, if we're looking not so far out, then I imagine my significant other and I living together and my career taking off. I imagine that I know all of the many hidden secrets of life, including the ones you only learn once you let go of the past.
From what I already know about life, there's a lot of beauty in letting go and living in the present. You're rewarded with a lot of peace of mind the second you hit that "unfollow" button on social media or decide that a situation is no longer in your control. You create a lot of space for happiness and growth, and start welcoming new people, places, or things into your everyday life.
I also understand, though, that it's not always easy to let go of what was or what could've been. It can be tough to walk away from what seems to be your dream job, or an opportunity that felt right. In those moments, you have to remember that everything happens for a reason and get curious about these five hidden secrets of life. The future awaits, after all!