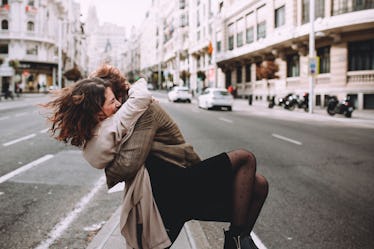 5 Things You Learn About Your SO The First Time You Travel Together
Relationships have a lot of milestones, and you and your partner have likely been through some of the best ones. There was the first date when you ordered a box of pizza to take to the park, and laughed for hours. There was the movie-like kiss, and the moment when you met each other's friends (and down the line, parents). Now, you're heading off on an entirely new part of your adventure — one that may require a passport stamp or a sweet week spent on an island with someone you love. Yes, this will be the first time you travel with your partner. You should know that you're bound to learn a few things and take a million pictures, too.
First things first: Let's talk about what you and your partner have learned about each other so far. Although a lot of this depends on how long you've been dating and your individual relationship, there are some little things you know by now. For example, you likely know each other's biggest pet peeves, favorite foods, and most embarrassing stories. You also know what they're passionate about, and why. Those details helped you connect when you first met.
Now, you're ready to take the leap and try something new. Together, you booked a trip and are excited to check something off the bucket list. Throughout this entire experience, you'll likely learn these five things. Ready, set, go!