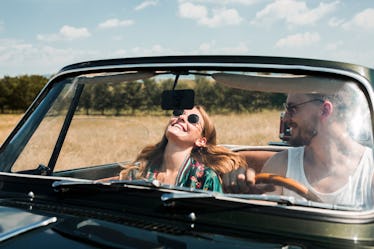 7 Things You Should Know About Your Partner Before Traveling Together, So You Stress Less
Going on vacation with your significant other can be a big step in a lot of relationships. No matter how long you've been dating this person, making the conscious decision to go somewhere together in advance means that you see them in your future. But if you're getting ready to take that step and hit the road with your boo, then these things you should know about your partner before traveling together are important to recognize.
And yes, even if you already live with your partner, there are some things that might come as a shock to you when you travel together. It's a learning experience, and one that can usually help couples grow together. But if you aren't prepared before you go on your trip, then you might be in for a surprise.
It doesn't exactly matter where you're going with your partner — you're still traveling together. By plane, train, or car, you're going to be spending a lot of time waiting — waiting to get to your destination, waiting for your plane to board, waiting, waiting, waiting. You might also be stressed about traveling in general, which means your partner might see a whole new side of you, and vice versa. This means you definitely want to know what to expect beforehand. Here's what several experts had to say on the matter, so that the only saltiness on you and bae's end-of-summer vacay is on the beach!