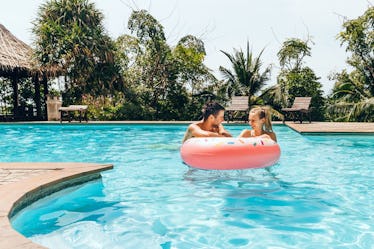 5 Annoying Double Standards That You Should Never Accept In Your Relationship
Despite considering myself a pretty staunch feminist, I have so many preconceived notions about heterosexual relationships. From "the guy should text first," to "the guy should pay," even if I know these things aren't facts of life, it's hard for me to let go of these old ideas when I'm dating. I usually wait for a guy to ask me out. I usually wait for a guy to bring up exclusivity. I'm my least outspoken self when dating, or at least I used to be. But finally acknowledging the double standards in relationships helped identify and get the eff over them. (Mostly.)
Almost a year ago, I started a project and podcast called "51 First Dates," with my BFF and business partner. We talk about dating, obviously, but I also go on one date a week. The goal of the podcast is about breaking bad dating habits, not just finding a boyfriend. Thirty-two dates later (dates bailed or rescheduled some weeks) a lot of people ask me exactly what dating habits I've learned to examine and/or break. The biggest realization I've had? That I have all of these internalized double standards in relationships and dating.
Before I started this podcast, I had never asked a man out. For 29 years, I always waited for a dude to ask me out first, even on the apps. Now, I feel embarrassed about that. Going on a date per week made it so that I had to message first, and ask dudes if they wanted to grab drinks first. I also leaned in for the kiss first for the first time in my life on a podcast date. I was very proud of myself.
I think it's important to think about some of the other double standards that we might blindly accept, no matter how forward-thinking we are. Especially once a relationship moves from dating territory into serious commitment territory. Here are some double standards you should never have to accept in your relationship. Spoiler alert: They work both ways.