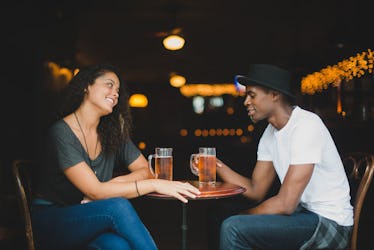 Why Everyone Should Be More Honest About What They're Looking For In Relationships
You only have to exchange a few messages on a dating app before the inevitable question is raised: "What are you looking for?" Maybe you're not sure, so you say something like, "I'm up for anything!" or "I want to meet people and see what happens." So you get together, and halfway through your first drink, they hint at coming back to your place. Maybe you're into the idea, or maybe you're offended that your date doesn't seem interested in getting to know you. This is exactly why it's important to be honest about what you're looking for in relationships right from the start.
Even if you tell yourself you're open to anything, deep down, you're usually either ready for a relationship, or you're looking for something casual. And if you don't tell a potential date what you really want, you can't be upset if they try to steer your outing toward something more romantic or more physical.
Defining the relationship can be scary, and a few years ago, you could probably wait until things started getting serious to have that conversation. But with all the available ways to find a match today, there are so many more unspoken lines waiting to be crossed and potential opportunities to unintentionally hurt someone's feelings. In order to protect your heart and actually find the right partner for you, you should consider being more honest about what you're looking for from another person. Here are three other reasons why the sooner you have that initial discussion, the better you'll feel.