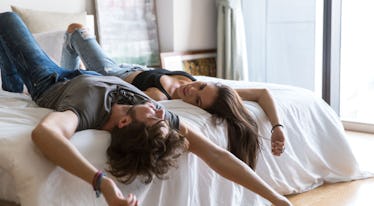 7 Brutally Honest Phases Of Casual Relationships, Because It's 2018 & This Is Life Now
It seems like everyone these days is looking for a casual relationship, and maybe you are, too. But if you've never been in a casual dating situation before, and you've never been through all the phases of casual relationships, you might be worried about how keeping things casual will go for you.
Sometimes casual dating works out perfectly for all people involved, and sometimes, well, our emotions aren't always on our side and feelings can get in the way and complicate things. But that doesn't mean that a casual relationship can't be fun and fulfilling, it just means that you and the people you date need to communicate and be on the same page (just like with any relationship). Casual may not mean making a serious commitment, but it also doesn't mean that you or the people you date can just not factor emotions into it at all — you're all human, after all. And the key to any healthy relationship, no matter how casual or serious, is respect and consideration.
Anyway, whether this is your first foray into the world of casual dating or you're basically a pro at it now, you can probably relate to these phases of being in a casual relationship at one point or another.