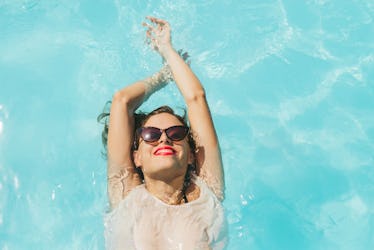 15 Perfectly Casual Instagram Captions For Photos Of You & Your Summer Fling
Seasonal Instagram captions are 100 percent a thing. I know because this is exactly how I organize the hundreds of archived captions I keep in the Notes section of my phone. Instagram addicts unite! If you're anything like me, you're just about ready to start working on your summer-themed captions. First up: Instagram captions for photos of your summer fling.
Sure, you can throw a few lines about summer lovin' in there, but you don't want to make things sound more serious than they are. Remember, summer lovin' happened so fast. It's not like your summer fling is going to turn out to be the Danny to your Sandy or anything (at least, not as far as you can tell). Just to be safe, you want to keep these captions as casual as your date. Think of this photo as more of a one-time cameo for your summer fling than a starring role.
The key to a good Instagram caption is brevity (so it's not all that different from your summer fling). The quicker you can your point across — so that your followers can spend more time looking at the photo than reading your caption — the better. If you can throw in a summer pun or two (without sounding too cheesy), your likes will be just like the temperature — in the triple digits. Try any one of these 15 Instagram captions this summer.