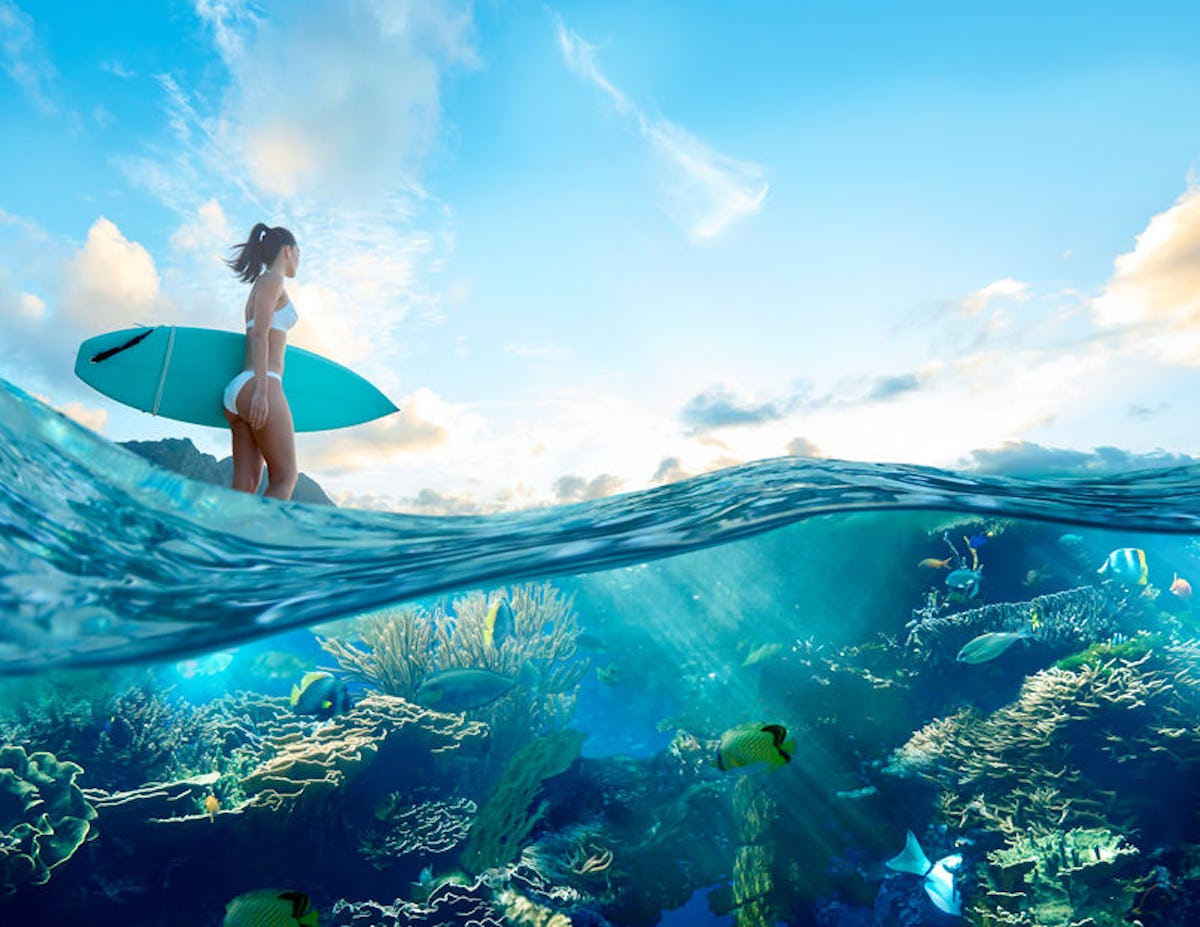 34 Instagram Captions For Beach Waves & Salty Hair Flips
There are a few places in this world that have the perfect amount of serenity. These places hold three things many of us seek in a vacation spot: peace, relaxation, and a break (even if brief) from real life. Without fail, the beach is one of these special destinations. It might be the way the breeze is the perfect temp to cool you off from the hot summer sun, or how the soft sand squishing between your toes puts the mind at ease. Or best of all, maybe it's the feeling of swimming in the ocean waves. When you're that relaxed, it needs to be remembered forever, so you'll need some Instagram captions for beach waves.
When you're on vacation, a beach picture is the Instagram you can't forget to snap. Maybe it's a shot of you posted up on a sand bar, or flipping your hair by the cliffs. Maybe you're with your besties, or traveling solo. Whatever the pic may be, it'll go even better with a beach-centered caption like one of these 34 salty, yet sweet, ideas. It's time to dive into the waves, salt up your hair, and get posing. These captions are the perfect pairing.
1. "Salt water awaits." — Unknown
2. "Turquoise water and white sand beaches." — Unknown
3. "Dance with the waves, move with the sea. Let the rhythm of the water set your soul free." — Christy Ann Martine
4. "Seaside where I belong." — Unknown
5. "Saltwater cures all wounds." — Unknown
6. "The ocean is everything I want to be. Beautiful, mysterious, wild and free." — Unknown
7. "She-crab: one in dire need of a beach day." — Unknown
8. "Some girls are just born with the beach in their souls." — Unknown
9. "The smell of ocean water is enough to calm my soul." — Unknown
10. "No one likes a shady beach." — Unknown
11. "Live by the sea, love by the moon." — Unknown
12. "Don't forget to seas the day." — Unknown
13. "Life is simple. Just add water." — Unknown
14. "Beach days are the best kind of days." — Unknown
15. "Happy by the sea." — Unknown
16. "A day at the beach restores the soul." — Unknown
17. "Keep calm and beach on." — Unknown
18. "Life is short. Move to the beach and never look back." — Unknown
19. "The scent of the water, the sight of the sea, make me ever so happy just to be me." — Unknown
20. "The sea, once it casts its spell, holds one in its net of wonder forever." — Jacques Yves Cousteau
21. "I'm pretty sure my birthstone is a seashell." — Unknown
22. "Don't worry, beach happy." — Unknown
23. "Gone coastal, be back never." — Unknown
24. "Life's a beach, find your wave." — Unknown
25. "Advice from the ocean: be shore of yourself, come out of your shell, take time to relax and coast, avoid pier pressure, sea life's beauty, don't get tide down, make waves." — Unknown
26. "Truth: Waves wipe away worries." — Unknown
27. "The ocean stirs the heart, inspires the imagination, and brings eternal joy to the soul." — Robert Wyland
28. "If you want to heal, find water and stars." — Unknown
29. "Find me where the waves are." — Unknown
30. "An ocean breeze puts a mind at ease." — Unknown
31. "Happiness comes in waves." — Unknown
32. "I have salt in my veins and sand in my heart." — Unknown
33. "Catch you on the next wave." — Unknown
34. "Because every day should feel like a day at the beach." — Unknown