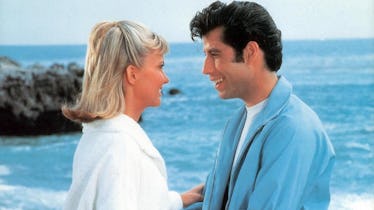 21 Lyrics From 'Grease' To Use For Your Summer Lovin' Instagram Captions
Coming up with the perfect Instagram caption is no easy feat. And with summer quickly approaching, you're bound to have tons of sweet poolside pics with bae that need captions before you hit "share." To help you rack up those likes and comments, these 21 Instagram captions for your relationship pics during the summer are all peachy keen, jellybean. (That's a quote from Grease, BTW.) That's right, each one of these captions is inspired by the classic 1978 film starring John Travolta and Olivia Newton-John. Because can you name a more iconic movie about summer love? I don't think so.
Whether you're sweet like Sandra Dee or happiest swathed in black leather like Pink Lady Sandy, you're guaranteed to find a caption below that goes together almost as well as you and your significant other do. You'll be hopelessly devoted to the task, because picking out just one quote from all of these groovy choices will likely feel impossible. But hey, that's just one more reason to take couple pictures all season long. After all, that's the thing about summer loving... it happens so fast.
So shooby doo-wop she-bop your way through this article and find the perfect Grease-inspired Instagram caption for that adorable summer photo of you and your S.O.
For The Die-Hard Grease Fan
These song lyrics and original quotes are taken straight from the movie, because there are no edits necessary when it comes to cinematic perfection. Consider pairing any of these captions with a romantic picture of you and your partner smiling or kissing under the summer sun. Bonus points if you're wearing a '50s-style bathing suit.
1. "Summer lovin', had me a blast."
2. "Summer lovin', happened so fast."
3. "But oh, those summer nights..."
4. "Summer sun, something's begun."
5. "Met a boy, cute as can be."
6. "Tell me about it, stud."
7. "We go together like rama-lama-lama-ka-dinga-da-dinga-dong."
8. "I'm hopelessly devoted to you."
9. "You're the one that I want."
10. "Love is a many splendored thing."
For The Modern Pink Lady
These slightly altered movie quotes and Grease references put a fun and modern spin on a timeless classic. Think Julianne Hough's portrayal of Sandy in Grease: Live. We're bringing vintage cars and leather pants into the 21st century, baby. Any of these captions would go well with a picture of the two of you rocking leather jackets on the boardwalk or sipping a shared milkshake at your local diner.
11. "You're peachy keen, jellybean."
12. "Rock 'n roll is here to stay (and so are we)."
13. "The Danny to my Sandy."
14. "You make me feel like a Pink Lady."
15. "I may not be a beauty school dropout, but I think you're drop-dead gorgeous."
16. "The only person I'd want to be my date to the school dance."
17. "We're going steady."
18. "Rydell High School's new It couple."
19. "We're kind of like the love story in Grease, only you didn't have to change a thing for me to notice you."
20. "Want to split a milkshake?"
21. "When we're together, it's like greased lightning."
Grease might be the word, but Instagram is the place to share your relationship pics this summer. Combine the two and you'll get the best of both worlds... which translates to your most-liked photos ever, plus tons of "🔥🔥" comments from your friends. Don't forget to include your own applicable emojis along with your choice of caption. I'd suggest the lightning bolt ⚡, checked flag 🏁, race car 🏎️, or pink bow 🎀, just to name a few.