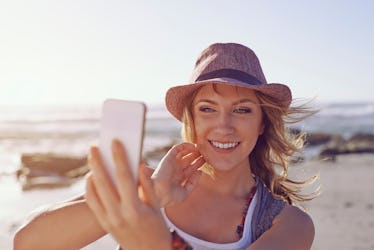 36 Captions For Your Sunny Beach Selfies That'll Bring On The Good Vibes
Don't you just love the beach? It's the ultimate sweet (and salty) escape — away from the hustle and bustle of the city, the work deadlines, and daily responsibilities. For a few hours, you get to let any stresses of daily life melt away as the sun beats down on you. It's the serene haven so many of us cannot get enough of. But don't forget about your beach prep, like making sure you have some sunny Instagram captions for beach selfies lined up for when you hit the surf and sand.
Whether you like to spend your beach day lounging and getting as much sun as you can, playing a competitive round of beach volleyball with friends, building a mansion-like sandcastle, or splashing in the water, a beach day calls for some snapshots. After all, are we truly millennials if we don't take a picture? That's a hard no. Slay those selfies, my friends.
In between all of your sunny shenanigans, these 36 captions are going to come in handy the next time you find yourself making waves and soaking up rays. Do I need to further prove my point? Nah, you've got a relaxing beach to enjoy.
1. "You are the piña to my colada." — Unknown
2. "Happier than a seagull with a French fry." — Unknown
3. "High tides and good vibes." — Unknown
4. "Thalassophile: (n) a lover of the sea." — Unknown
5. "The tans will fade but the memories will last forever." — Unknown
6. "Dear ocean: thank you for making us feel tiny, humbled, inspired and salty... all at once." — Unknown
7. "The ocean stirs the heart, inspires the imagination, and brings eternal joy to the soul." — Robert Wyland
8. "Home is where the anchor drops." — Unknown
9. "You, me, and the sea." — Unknown
10. "Beach days are the best days." — Unknown
11. "Life's a beach. Enjoy the waves." — Unknown
12. "Go where the wifi is weak and the rum is strong." — Unknown
13. "I got sunshine on my mind." — Avery Sunshine
14. "I never met a sunset I didn't like." — Unknown
15. "Smell the sea, and feel the sky. Let your soul and spirit fly." — Van Morrison
16. "I'm a true oceanholic." — Unknown
17. "Dance with the waves, move with the sea. Let the rhythm of the water set your soul free." — Christy Ann Martine
18. "A walk on the beach is good for the soul." —Unknown
19. "You had me at aloha." — Unknown
20. "Meet me where the sky touches the sea." — Jennifer Donnelly
21. "I need vitamin sea." — Unknown
22. "There's a million fish in the sea, but I'm a mermaid." — Unknown
23. "I followed my heart and it led me to the beach." — Unknown
24. "Resting beach face." — Unknown
25. "Life is better in flip flops." — Unknown
26. "Live in the sunshine, swim in the sea. Drink the wild air." — Ralph Waldo Emerson
27. "Girls just wanna have sun." — Unknown
28. "Tropical state of mind." — Unknown
29. "As endless as the ocean, as timeless as the tides." — Unknown
30. "Don't worry, beach happy." — Unknown
31. "I'm all about palm trees and eighty degrees." — Unknown
32. "By the beach, near the sea, what a wonderful place to be." — Unknown
33. "Saltwater cures all wounds." — Unknown
34. "I love you to the beach and back." — Unknown
35. "I'll have a side of beach with my morning coffee." — Unknown
36. "Dreams are made of sun and sand." — Unknown