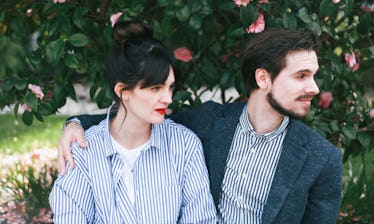 4 Early Signs Your Partner Isn't Looking For Anything Long Term, & What To Do If You Are
So, you're dating someone new, and you're really starting to catch feelings for them. You're looking for something serious, and you know that a casual fling just isn't in the cards for you right now. But what if your partner isn't looking for a commitment? If you haven't quite had the "What are we?" talk yet, but you're unsure of where you stand, it might be time to have a real conversation with them about it.
In the mean time, it might help to know some of the signs to look out for that indicate that your partner isn't actually looking for something all that serious. From small things like the language they use, to big things like whether or not they factor you into their decision-making process, there are a few ways you can tell — even early on — that the person you're dating isn't interested in a major commitment or a relationship that's more than just casual.
I reached out to a few different relationship experts to get the scoop on what signs to look out for — and what to do if you do suspect your partner isn't interested in something long-term (or if you're just not sure how to approach dating when you want a serious relationship!). Here's what they had to say.