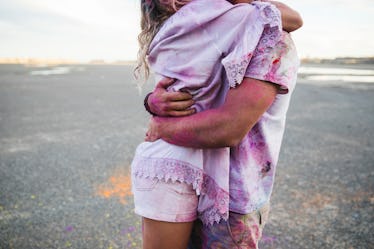 6 Signs You're Afraid Of Commitment, Even If You Really Like Someone
Someone just asked me if I could hang out on Friday night and it took me two hours to reply to the text. I don't have any plans on Friday. I like the person who asked me to hang out on Friday. I would love to see this person on Friday, but alas, I can't commit. I am indecisive, and even in this microcosm of an example, my greater commitment-phobia is on display. It's 11 p.m., do you know where the signs you're afraid of commitment are?
Because they are probably lurking in a dark alleyway of your subconscious, smoking cigarettes and ready to sabotage your next relationship! Wow, that's dark! But it's also how I feel about my own fears around commitment. They have lurked in the back of my mind, unnoticed until recently.
I used to think that my relationships failed because I was unlovable, or because people got to know me well enough at a certain point and said "BYE FOREVER!" because I'm scary. Years of therapy, working through feelings, a major loss, and honestly, starting a podcast that has forced me to go on 28 dates so far has turned that story I tell myself around. I finally decided to believe my therapist and accept that no, I am not unlovable, but I am terrified of intimacy. (It's taking everything for me to not backspace that last sentence right now! Vulnerability is hard!)
I have always had close friendships, and I had a supremely happy childhood shaped by my lovely parents, but somewhere along the way, whether it was ballet class or my first crush's rejection, I decided that everyone was judging me and my body for the worse and no one would like me, so I struggled to commit to relationships. Wowza! Did I scare you off yet?
The funny thing was, I often really liked the people I had trouble committing to. But I'd end up going after relationships I knew had a rapidly approaching end date, or that I knew wouldn't have the pressures of turning serious. I spoke to Dr. Gary Brown, a prominent relationship expert in Los Angeles who works with singles and couples, to get clear on what the signs you might be afraid of commitment look like in reality.