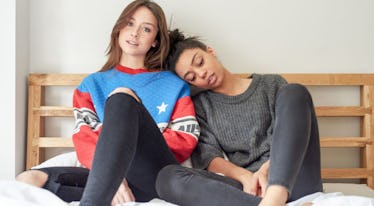 7 Brutally Honest Phases Of Defining The Relationship, Because TBH, It Can Be Stressful
Dating someone new usually comes with a lot of excitement — the butterflies, the fun dates, the sex, the intimacy that comes with learning someone new — it's all great. But it's when things get serious that you can find yourself feeling a little stressed out. Once you start thinking about defining the relationship and whether or not you want a future with a new person, you might be worried about how it will go.
But regardless of whether or not you wind up in a serious relationship with this new person or you realize you want different things and go your separate ways, there's pretty much no getting out of the "So, what are we?" conversation in some way, shape, or form. Even if you know you're both on the same page (I've been in relationships where "I love you" came before the official DTR conversation happened, though it did still happen — hey, some couples are just different!), you still have to talk about things.
Defining the relationship can be a quick conversation or a long talk. It can happen pretty soon into dating someone new, or it can take a while. It can end in a new partnership, or it can just end things altogether. But no matter how things turn out the next time you DTR, it's probably going to go a little something like this.