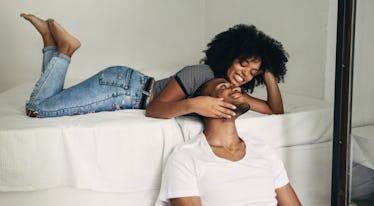 If Your Partner Hasn't Said "I Love You," & It's Been A While, Here's What To Do
So, you've been in a relationship for a while now, and your partner hasn't said "I love you" yet. If you're waiting for them to say it before you (Been there! I know it's stressful!) but they just haven't, what do you do? Well, there's a simple answer, though it may feel like a challenge to you: Take the lead and say it first.
Here's the thing. You deserve to be in control of your love life, and what better way to take control than to be open, honest, and put your feelings out there? If you feel that love for your partner, you should feel good about saying it, no matter who says it first or when.
Now, there are a few things you should keep in mind before you just casually drop it into conversation. Before you say "I love you," you should make sure you really, sincerely mean it, and that the timing feels right for your relationship. (But honestly, you make the rules here!) And most important? Don't go into it with expectations for your partner to say it back immediately — make it about your feelings, not theirs.
If you're nervous about taking the leap, here's what you need to know.