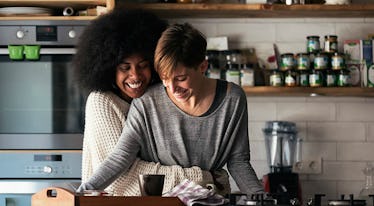 10 People Reveal How Long The Honeymoon Phase Lasted In Their Last Relationship
We all know the honeymoon phase well. You know you're in it when you've just started dating someone new, your stomach fills up with butterflies, and every single thing you do together feels exciting. If you find yourself smiling all the time for no reason, you're definitely in it — and that new relationship glow is quite the feeling. And you might find yourself wondering, "How long does the honeymoon phase last?"
The answer is that it's different for everyone. Essentially, the honeymoon phase is over when the infatuation takes a back seat to facing life's little realities together. According to experts, the average time the honeymoon phase lasts is around three months, but it can absolutely be longer or shorter depending on the relationship.
Some say the honeymoon phase is the best part of a relationship, others argue that it's the parts after the honeymoon phase ends that are the most fulfilling. Also, you might not even experience the honeymoon phase the way others describe it, but that doesn't mean your relationship isn't satisfying. You also might never leave the honeymoon phase, but that doesn't mean your relationship isn't deep and fulfilling. Whatever you believe and experience, it's all about what works and feels right for you and your partner — as proven by these 10 real relationship stories, courtesy of Reddit.
This article was originally published on