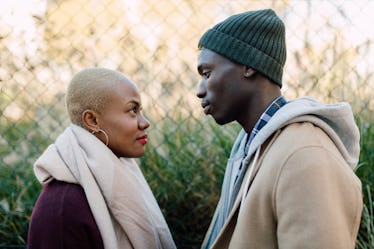 Here's Why The Period After The Honeymoon Phase Can Be Even More Satisfying
It's no secret that embarking on a relationship journey with someone new can stir up some very intense emotions. All things considered, it's easy to see why the honeymoon phase of a relationship gets most of the praise, while the calmer, less intense feelings that develop over time sometimes get a less exciting rep. What happens after the honeymoon phase might not be the same as the all-consuming, "can't eat, can't sleep" kind of love that everyone talks about, but if you're with the right person it can actually be even more satisfying.
The moment you realize you've fallen in love with someone, the high can be so thrilling that the thought of things simmering down might seem not only unlikely, but very much impossible. When you're not together you spend pretty much every second counting down the moments until your next date. You find yourself obsessively wondering what they think about this or that and fantasizing about what a future with them could be like. Fast forward several months, and while you may still love them, the world seems to have lost that special glow and electric glitter it had when everything was still new. This come-down can come as a bit of a shock to people who might even find themselves wondering if this lack of intensity means they've actually fallen out of love, which needless to say can be very confusing.
Settling into the more stabilized ebbs and flows of a committed relationship feels different, simply because it totally is. Here are three reasons the post-honeymoon phase is actually amazing.