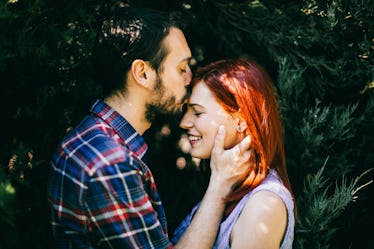 This Is When Most New Couples Leave The Honeymoon Phase, According To Experts
Ah, the honeymoon phase: a time when you've just fallen in love with someone new and life seems like it couldn't be better. Your new bae can do no wrong, and you feel like the luckiest person in the world. But of course, if past relationships have taught us anything, it's that sooner or later reality is bound to come charging in, shattering our rose-colored glasses. If you're seeing someone new and wondering, "When is the honeymoon phase over?" the short answer is that it totally varies from relationship to relationship. Some relationships burn super bright only to cool down that much quicker, while others build slowly and manage to sustain the passion for a bit longer.
Transitioning out of the honeymoon phase of any relationship can be a bit troubling at first, and it's easy to be left feeling v confused. In the beginning you could barely manage to be in their presence for five minutes without ripping each other's clothes off, but now you're only having sex every other time you see each other. All of a sudden, the drive to be agreeable and chill has been replaced with a sense of annoyance when things don't work out how you would've liked them to. While this dampening of the initial excitement can feel like a bit of a bummer, the truth is that it's a completely normal part of every relationship. Elite Daily spoke with relationship expert Monica Parikh, of School of Love NYC, and dating coach Damona Hoffman to find out when it's normal for things to start cooling off.