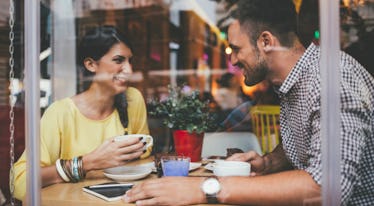 These Are The Healthy Relationship Boundaries You Should Set From The First Date 
When you first start seeing someone new, the thought of setting healthy relationship boundaries might slip your mind. It's easy to get caught up in all the butterflies when your date walks in and seems to be every bit as cute and charming as you hoped they'd be, but setting clear boundaries from the beginning is a great dating habit to have. Talking about what you want and need and figuring out where you stand helps set you up for success with a person you might want to enter into a relationship with. And at the very least, it helps you weed out people who aren't as compatible with you.
"The first few dates can set the foundation for your reading your potential partner accurately," psychotherapist, author, and relationships specialist LeslieBeth Wish tells Elite Daily. "But you need to be sure to use the best building blocks. The goals of your first few dates are to test your initial intuitive assessments about this new person. And the smartest way to do that is to ask effective questions and to set clear boundaries."
So, what kind of boundaries should you be setting from the beginning of a budding new relationship? From communication to intimacy, here are some things you might consider discussing from the first date.