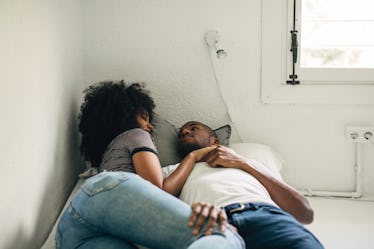 8 People Reveal How They Said "I Love You" For The First Time, & Ugh, My Heart
Letting someone know that you're into them can be one of the scariest experiences ever. And of course, "into them" is a euphemism for when those love juices are coming on so strong, you legit can't get someone off your mind. Saying "I love you" is a huge step, but unsurprisingly, how people said "I love you," varies wildly, because every relationship is unique. Some people want to make an occasion of it, and others prefer the moment to be more casual and spontaneous. If you're a planner who waits months for the perfect moment, or if you're the type who will spring it on 'em out of nowhere — there's nothing like the thrilling emotions that come with finally being able to tell someone that you're totally crazy about them.
And while putting yourself out there is most definitely a risk, if you ask me, it's almost always worth taking. Because in the end, even if they don't say it back or aren't feeling the same way, the ability to be vulnerable is such a valuable quality.
Plus, most of us can afford to take a few more calculated risks! Whether that means finally telling your crush of forever how you feel, or applying for your dream job even if your work experience isn't where you feel like it should be. Life is short people! So, in the spirit of taking a leap of faith, here are eight people's experiences of professing their love.