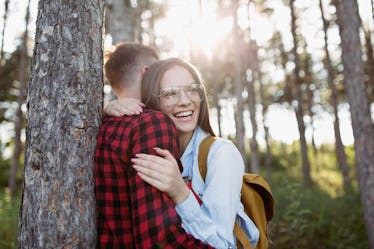 How Long Should You Wait To Define The Relationship? Here's What The Pros Have To Say
Dating today is filled with question marks, unspoken rules, and just a general sense of mystery. We're all tasked with balancing definitive interest with that hard-to-get chase, ensuring that our love interests know we're into them, but not, like, too into them. But then — maybe eight or nine or a million dates in — the question of, "Wait, what are we?" starts floating around in your mind. Inevitably, you start to wonder whether it's time to call off that cat-and-mouse game or maintain a chill façade — I mean, how long should you wait to define the relationship?
It's a question I've asked myself on a number of occasions, first as a dazed and confused teenager, and then as an even-more-confused adult (or whatever it is that I am). My last "Facebook-official" boyfriend and I dated for a year and a half, but had spent the better part of a year hanging out and making out before deciding to take on official labels (I was feeling very 500 Days of Summer at the time). And yet, five years later, here I sit — a mere four dates in with a new fellow — twiddling my thumbs and wondering whether or not he deleted his dating apps as swiftly as I did after our second rendezvous.
In other words, I have no idea when or how it makes sense to take that step and ~DTR~ with a new partner, which is why I turned to the experts (as well as some real women who have tackled this question themselves). And, after chatting with six ladies and a couple of professionals, I think the greatest takeaway here is that, well, it totally depends. There's no set timeline, nor a standard relationship yard stick, to let you know what's right at what times — you've just got to trust your gut (and your SO) and go at a pace that works for you two.
"There isn't a perfect way to do it," says Nicole Richardson, licensed marriage and family therapist. "There isn't a certain number of time or dates or milestones. It's when your partner is showing up the way you need them to to feel safe."
With that in mind, here's how six women knew it was time to define their own relationships — some after just a few short dates, others months in.