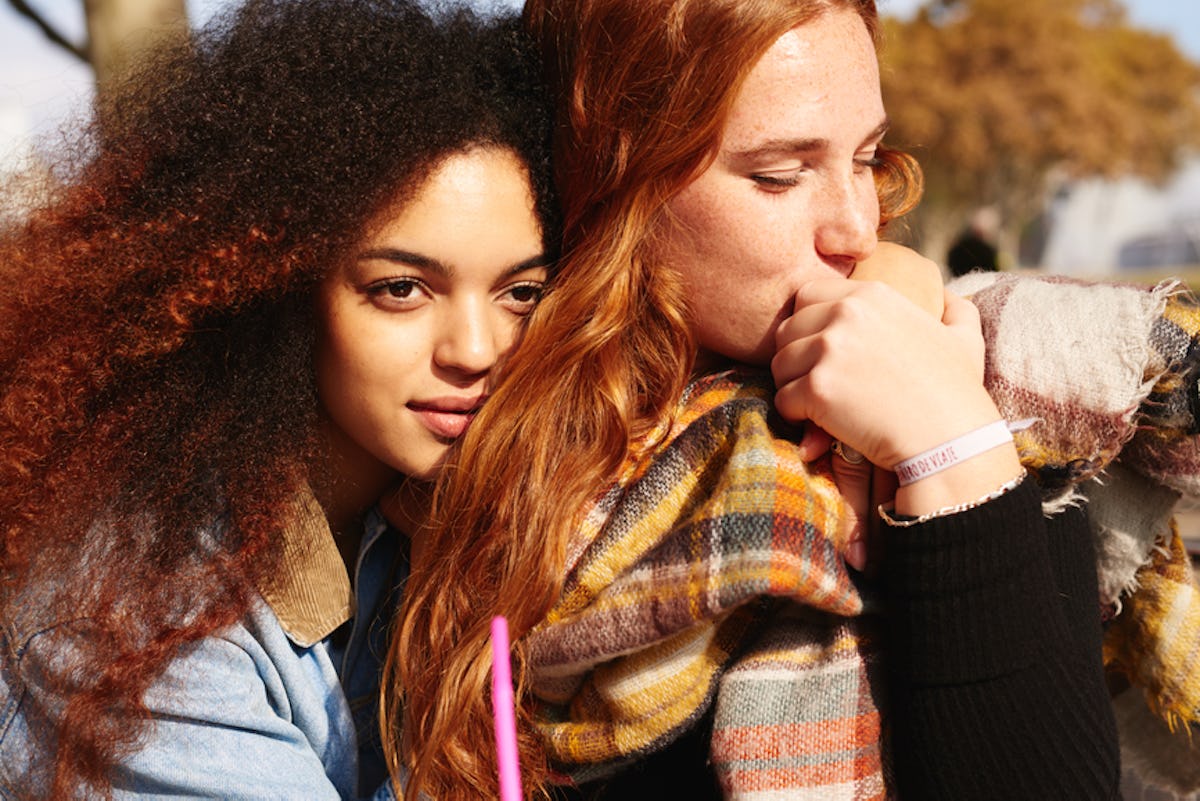 3 Questions You Should Ask Yourself Before Making It Exclusive With Someone
I used to have a really bad habit of rushing into relationships. I'd fall hard and fast, and before I realized what was happening, I had locked it down. So it was probably inevitable that a few months later I would be in a blind panic looking for the escape route, with all the red flags I had skillfully ignored in those early infatuated days now flapping in my face. Back then, I had no idea how long should you date before becoming exclusive. I learned it the hard way by discovering that taking your time and really getting to know someone before defining the relationship is not only OK, but the right thing to do. Don't get me wrong, I'm still a romantic, just one with a bit more patience.
Every relationship is different and moves on its own timeline, so knowing when the time is right to define the relationship (DTR) can be confusing. Are there any hard and fast rules about how soon is too soon? What are the signs that the time is right? To answer these questions and more, I turned to Alessandra Conti, celebrity matchmaker at Matchmakers In The City. Here is what she had to say about how long you should date someone before you decide to take the next step and make the relationship exclusive.
How Well Do You Really Know Them?
One of the main reasons I regretted rushing into a relationships is that, somewhere around month two or three, I'd realize I had no idea who they actually were. The front we all put up when we're first dating someone would drop and I'd learn belatedly that I didn't really want to be with that person. Not that they were bad people (though some were), it's just that the compatibility wasn't there.
This is why Conti says it's essential not to be too hasty when you're first dating. "The goal is to be exclusive with the right person," says Conti. "The best way to truly learn about another person is to take the time needed to truly get to know them before making a commitment to them." While there's no exact right amount of time, she says you should wait anywhere from one to three months before making the relationship exclusive.
Can You See A Future With This Person?
This is really the big question, isn't it? Many of the people I dated, I picked for their fun factor. If I had fun going out with them, or hanging out with friends, I would think they were a good match. Only in the sober and solo light of day did I realize that what we had in common was a shared interest in partying on the weekends. That makes weekdays, well, awkward. That was fine for a while, but as time went on and my needs in a partner evolved (i.e., job, security, actual life compatibility), I wanted to be exclusively free from that relationship.
According to Conti, that's normal because, "once you get into your 20s, the whole boyfriend/girlfriend label takes on a bit of a more serious role. When you commit to being someone's boyfriend or girlfriend, you are saying to them and to the world that you could potentially see someone more serious come of the relationship." Which, she explains, is all the more reason to take the time to really figure out if they are a good fit before getting serious. And also, to make sure that you are ready.
How? Glad you asked…
Are You Ready To Be Exclusive With Someone?
Have you spent so much energy trying to look for clues that the person you're dating wants to get more serious that you've forgotten to check in with yourself? I'm definitely guilty of this, but Conti says that before you make the move to a committed relationship, you need to spend some time assessing where your heart and mind are at. She says to ask yourself: Do you get upset at the thought of them with someone else? Do you want them to be a part of your daily activities? Are you excited when you're going to spend time with them? And, lastly, would you rather go out with them than a random new person from an app? If the answers to those questions are yes, then signs are good that you are ready to DTR.
So, as it turns out, there's no exact right amount of time you should date before making it official. Wouldn't it be nice if it were that easy? But no, like all things related to relationships, it's complicated, messy, and exciting. The key here is to not rush in with your heart entirely. Give yourself some room to get to know the person you're dating, to see if you want their future to be your future, and to really check in with yourself to see if this is the person who really has your heart.
This post was originally published on Nov. 8, 2017. It was updated on Aug. 9, 2019 by Lilli Petersen.