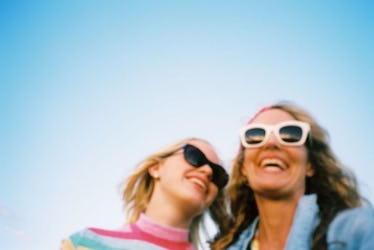 The 8 Emotional Stages Of Reuniting With Your College Friends
Are you ready to reunite with your roommates? Let's think about it for a second: Um, yes! You've been waiting for this moment since the beginning of summer. You all parted ways and went back home. Some of the girls in your crew headed to the city for an internship, or took a trip where they didn't have cell service. To say the least, it's been a struggle, and you're excited to have all of your favorite people under one roof again. You should prep yourself on the stages of reuniting with your college friends, though. You've missed them so much, and happy tears will be required.
Some of your favorite memories in college thus far include your roommates. Sure, you've loved hanging with all of your besties. But, nothing beats the casual Tuesday nights when you're snuggled up on the couch watching Food Network or reality television. Somebody always brings home ice cream, or you all combine your snacks and have a dance party. You came to campus to get a degree, but there's something to be said for these sweet moments spent in your dorm with this dope crew of humans.
When you all reunite, it's going to be an overload of emotions. You're going to be crying so many happy tears, and laughing at the latest memes that were sent in the group chat. (Let's be honest: You've been checking your phone constantly this summer just to stay in touch with your crew.) These eight stages will definitely go down. Ready, set, reunite!