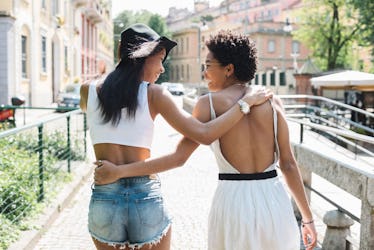 If You've Never Had These 7 Convos With Your Best Friend, Are You Even Friends?
What does it take for you to consider somebody your best friend? For me, as soon as I can truly be myself around another person, I think we're pretty close. My roommates and I have bonded over the fact that I'll make full meals at midnight when I'm really hungry, and I know the girls I have back home are real ones when they laugh at my (let's be honest, probably not that funny) jokes. But, I think there are some conversations to have with your best friend that truly seal the deal and prove your bond is legit. Let's talk, OK?
Think about the friend in your life who you'd literally go to with just about anything. She's your reliable shoulder to cry on, and the only one who seemingly understands exactly what's going through your brain at all times. In any situation, you could probably have a conversation with her without saying a single world. You're just completely on the same page.
Now, think about the heart-to-hearts or thousands of texts you've shared with this person over the years. I'm sure there are a few that stand out, and moments when you said to yourself, "Yup, we just became best friends." From that moment on, you were bonded for life, and you really wouldn't want it to be any other way. For me, there are seven kinds of conversations that come to mind that are solid proof I have some legit bonds in my life. Do any sound familiar?