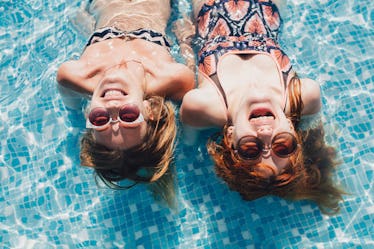 7 Embarrassing Moments You Must Have With Your Bestie Before Turning 25
*Cue the cringing.* Some of us would love to never relive the times in life when we've felt embarrassed. It's those moments when you wanted to crawl into a hole, or escape to another country and change your name. Is that dramatic? I don't think so. But, it was never so bad when you had your bestie by your side. For some reason, she just made any situation much better, and you two continue to laugh about all the awkward times when you couldn't help but blush. These embarrassing moments with your best friend are a must before you turn 25. Yes, there are more of those bittersweet memories coming your way. Are you ready?
Honestly, you'd like to thank your truly cringe-worthy moments for bonding you and your best friend together like glue. You've truly been through it all, and every adventure has seemingly come with a story you'll be face-palming to later on. Sometimes you wonder who ever let you become adults. Considering how often you and your girl get lost or do something truly ridiculous, it's amazing that you're, dare I say, thriving in the real world.
Don't be too hard on yourself, though. We all have those embarrassing moments that make us so human.Before you turn 25, you'll hit a lot of milestones and make a thousand mistakes. It kind of just comes with the territory. Just be ready for these seven embarrassing moments you'll have with your bestie, too.