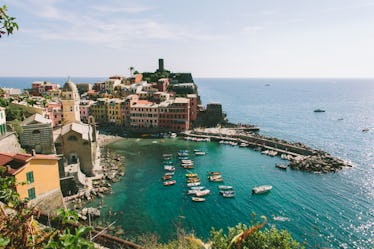 7 Stunning Places Across The Globe That Are Literally All Colors Of The Rainbow
It's a wonderful world, and if your life has been feeling a bit dull lately, you might want to considering taking a trip. Traveling has a way of opening up our minds, and totally changing our perspective. When we change our surroundings, and fall head over heels for culture and cool places, we become so much richer — even if our wallets are wondering why plane tickets can be so expensive. Especially when winter comes around, it's easy to get in a boring, neutral funk. These colorful places around the world will add something brighter to your bucket list, and let you experience the rainbow instead of just seeing it in the sky.
All of those Skittles commercials always have me wondering why color has such an effect on our moods. Yellow makes a lot of us feel a little happier, and green grounds us when our heads are in the clouds. Blue is oh-so-calming, because it reminds us that life's really a beach and to ride with the waves, and white feels like a fresh start.
You may have already seen some some places around the globe that have shown off such a spectrum. All of those tropical vacations, or the bright lights of Times Square in New York City surely will set some different tones. But, if you still can't get enough of color, you'll want to add one of these seven beauties to your bucket list.